With% copy_text% you can extend selected texts, regardless of whether in plain Notepad, or in MS Word 365! 
Here is an example how to use
% copy_text% 
can extend the text under Windows without problems, if you have a one
determine
 "text" as a kind of "
 individual supplements
" 
wish with a specific shortcut keys to add that of course you can define yourself for fast e
rgänzen
 / Extending the texts
Content:
See also: ► 
Keyboard Shortcuts for Starting Program Examples
!
1.) Example: Expand "Mrs.Muller" text by key combination  right Ctrl + A!
Type
"Ms. Muller"
and highlight "Ms. Mueller", use the self-defined key combination (in this example, right Ctrl + A) and the result is "Dear Ms. Mueller"
Also:% copy_text% is the wildcard when pressing the "self-defined key combination" is sent to the program in which you are working a "COPY" command and then "PASTE" and in the place of% copy_text% the content from the "COPY" command is inserted
(
... see picture-1 Point 1 to 4
)
(Picture 1) Texts with short individual additions via copy_Text!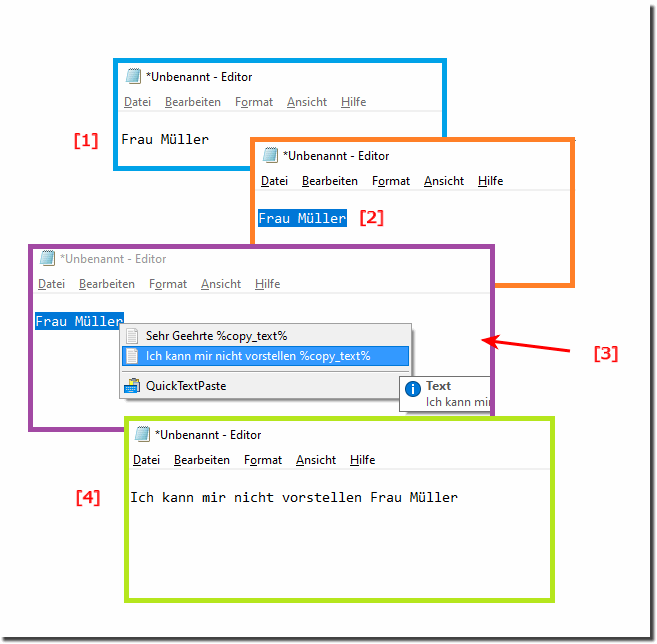 2.) Just import the example!
[list_text]
text_000=R-Ctrl+A=Dear %copy_text%
[list_label]
text_000 =
[list_order]
text_000=106

Import the command example!

Copy example to clipboard
1.
Select
text 
► Right-click 
► Copy) 
2. In the QTP menu ► Options ► Bacup ► 
import from clipboard