Hier ist ein Beispiel, wie Sie Ihr  Zelda Breath of the Wild Desktop Hintergrund mit der Desktop Uhr aufwerten können!
Bitte starten Sie die
TheAeroClock
und stellen Sie die Textur zum Beispiel auf
Für Zelda Wallpaper Grün
um.
Bitte immer 
... die aktuelle Version von TheAeroClock  für Windows verwenden
! 
👀
(Bild-1) Zelda-Breath-of-the-Wild-Link-Hintergrund mit Desktop-Uhr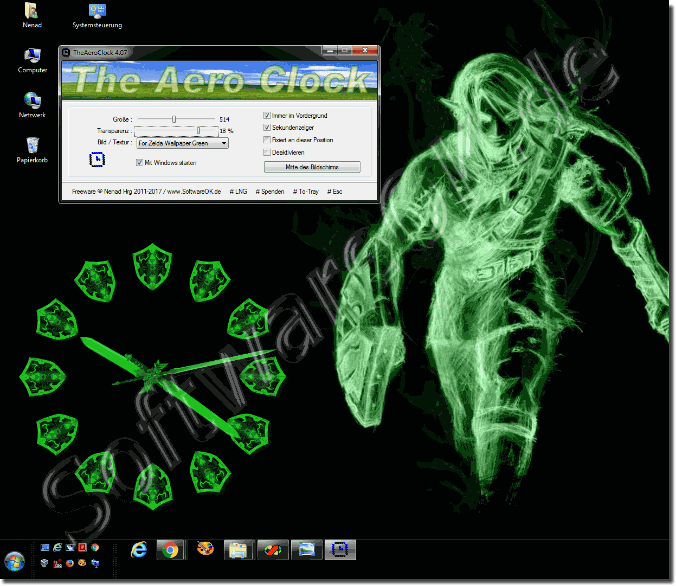 Top Benutzer Anfrage:

Hallo ich bin ein großer Nintendo Switch und zugleich Zelda Breath of the Wild Fan, unter Windows gibt es keine passende Uhr und zum Downloaden finde ich auch nichts, was mich antörnt. Eine sehr schöne Uhr die auch unter Windows 10 funktionieren würde. Die Store APPs und Anwendungen will ich nicht wegen Datenschutz und so. Ich suche eine Zelda Breath of the Wild Desktop Dekoration für Windows 10 und 8.1, habe noch einen Rechner mit Server hier, würde ich es auch gerne einsetzen, wenn es möglich ist. Ist in der Windows Aero Uhr sowas möglich, ein paar nette Zelda Themen passend zum Desktop Breath of the Wild Hintergrund, wie gesagt die im Microsoft Store sind mir groß, unübersichtlich und nicht portabel, eine Desktop-Uhr die ich immer auf USB mitnehmen kann. Ohne Installation, Ich hoffe ich kann bald auf deiner Seite für Microsoft in Windows 10 ein Desktop Tool passend zu Breath of the Wild, oder allgemein zu Nintendo Switch und / oder Zelda finden!